Okay so the math is off... I know that 9+9= 18.
However, today Bradley turned 9 years old and we are celebrating with 9 Presents + 9 Fun Things. WOOT!
Birthdays are a BIG thing in the Sonboul home and we go all out for it! ALL OUT!
It's safe to say that I'm a cool mom (so I think). B
irthday should be magical and I make sure they happen! Darn it! :)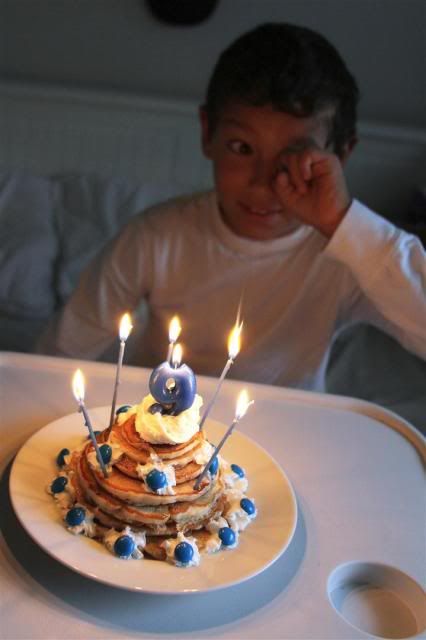 Because Bradley gets up with the birds, Mr. Sonboul and I had to get up even earlier. That alone shows how much we love this boy. haha. Quietly I made my perfectly well crafted birthday pancake tower in the kitchen (oh... tip for you all: Make sure the pancakes are cooled down before putting the candles in. The wax will melt. I'm just saying). Once it was all cook and looking perfect...I place it on the "birthday breakfast in bed tray".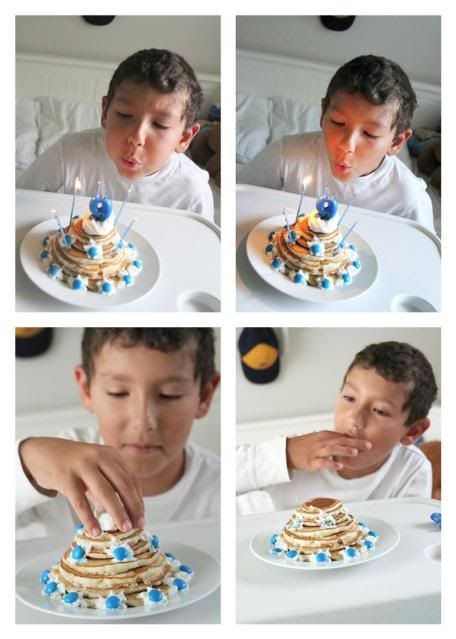 Making sure Calvin was involved, Mr. Sonboul got him up to help celebrate. With poppers in hand and a cute "midnight decorated room" (so he would be surprised in the morning), we sang to our little puppy. I just loved seeing our birthday boy's surprised face...which means...mission accomplished! Magical Morning...check!
T
oday we are packing the day with 9 things Bradley wants to do and the 9 gifts he received this year...
1) A bag of bouncy balls
2) A glow in the dark slinky
3) Crocks
4) The little thing-es that go in crocks
5) A valley ball
6) A valley ball pump
7) More bubble Gum for his bubble gum machine
8) Pokemon Cards
9) A BIG o'l LEGO set he's been asking for, for months.
We love this boy so much and I look forward to another year with him. WOOT! Our little man is 9!!!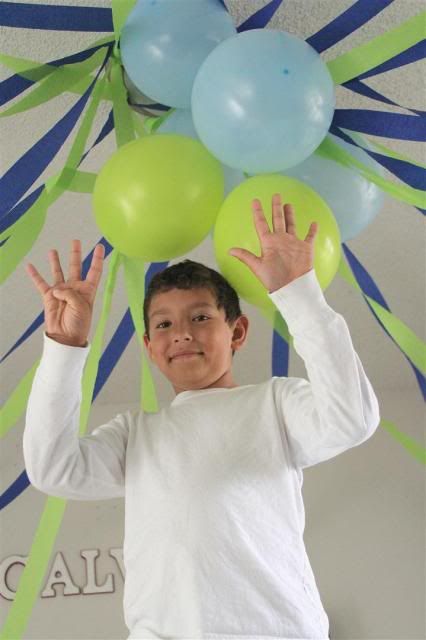 Bradley,
It's hard to believe that you are already 9, but here we are. You are such a big kid and are far from your baby years. I have loved every step of your life so far and as you approach the "girls and car years", I hope we stay as close as we are now. I would do anything to keep you safe and to teach you your worth. Your Daddy and I created you with love, so that you can have a magical life filled with loving and amazing moments.
I wish for you that you will grow in perfect health and knowing that you are a child of God. That your family LOVES you so darn much! I hope that this year will be magical and packed with surprises :) Just like it should be.
Because I can't tell you enough....WE LOVE YOU SO MUCH!
HAPPY BIRTHDAY PUPPY! YOU ARE ONE AWESOME KID!!!!!!
Love Mommy, Daddy and Calvin :)