This week was spent
-Helping Calvin fight the flu and almost taking him to the ER
-Announcing GCD Studios new DT
-Doing a little scrapping with my Studio Calico Kit if the month
-Getting assignments done for GCD and American Crafts
-Visiting my new favorite store Fast and Easy-Yum
-Sleeping past the alarm clock (from being so tried after taking care of Calvin in the AM hours)
-Eating way too much ice cream
-Helping with Home work
-Dropped a favorite Martha Stewart punch and it broke :(
-Dealing with the weather going from HOT to COLD. What's that all about?!
The newest collections
This month Mr. Sonboul and I have been faithfully working on my newest collection and so far I think it's pretty darn cute. We are almost done with it and have 20 of the 24 papers done. Then comes the fun part of making the embellishments. I wish I could share it with you now, but I'll have to wait until CHA time.
We are working on 1 boy collection and 1 winterish collection. shh... do tell anyone.
Weight Loss
Alright... I'm getting ready to take another go at it. My life has really slowed down (because of cutting back, which was so needed) and I'm not feeling as stressed about everything. I mean I still have stress, but it's not as bad. Why does food have to taste so good when you feel so stressed?
Give Aways and Blog Hops
This week I'm doing a blog hop with American Crafts. It's on the 17th. Don't miss it.
This comments Sunday I'm doing a spring give away. It's pretty cute, so keep a look out for it.
The Time Change
I was asked to sing for this past Sunday in church. I spent last week practicing and I thought it sounded pretty good, however I was really nervous to sing. It's been a long time when I last sang ( I use to sing for contests, funerals and anything else in between). On Last Sunday morning I decided to go down to church early (Bradley came along) to practice in the chapel, but as I approached the parking lot I realized that church was already going on and that we forgot about the time change! OH DARN IT! Bradley and I walk in the doors and found out that I was NEXT on the program. THANKS GOODNESS we left home early, "trying to be on time" (lol even though we were late). OH DARN IT, I was still nervous and didn't get to practice in the chapel. Oh well, because the show must go on. The Bishopric had a look of relief when I walking through the door.
I got up and sang. It went well and the nerves left. phew. That was a close one and haha... what a way to get back into singing.
And Last Something to Share
I don't think it's my best layout, but I like it. This was the layout from the SCK. Just thought I'd share it.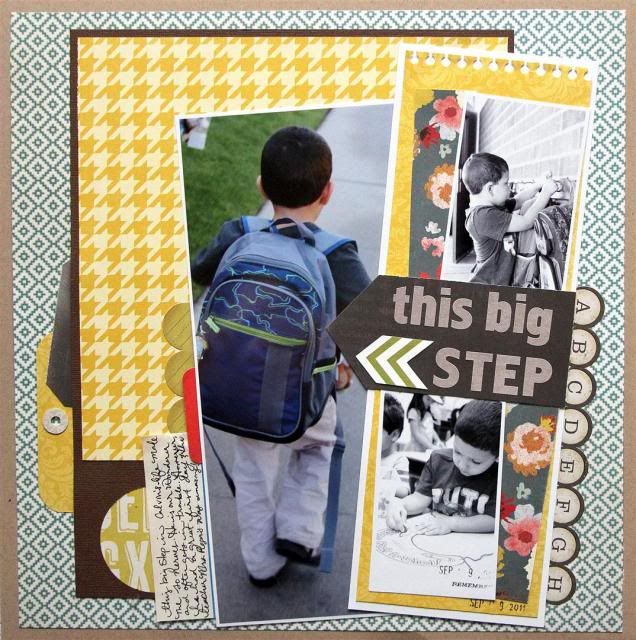 Needless to say, this Friday is WELCOMED and I look forward to the weekend.
~H