Saying that I "like" advent calendars is a bit of a understatement. In fact Mr. Sonboul said... "how many advent calendars are we doing this year?". Which made me laugh. This year we have a
Lego AC
, a date count down AC and this pretty AC. 3 is not bad...right?! I think this obsession stems from my childhood and loving to open each little box. The daily wait was thrilling and almost agonizing. Now here is a funny Heidi fact, I'm REALLY sick of green and red. Like I hate the colors together! Am I alone on this one?
Maybe so!
Anyways, this year I've banned all green and red combos for holiday decor. I wanted something fresh and pretty. Something wintry and new. So I started with orange and ended up here.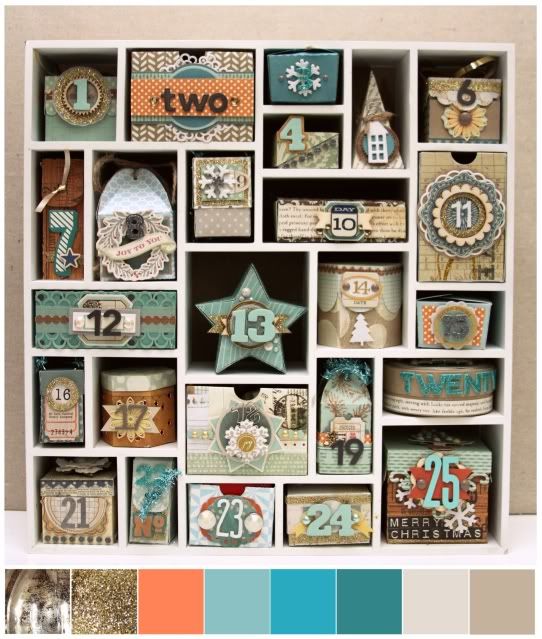 It might not tickle your fancy, but I think it's shiny and new (like a virgin lol). This advent calender is from Silhouette and they have some really cute box die-cuts I'm loving day 5, 7, 10, 13 and 20. All of the little boxes have treats, toys and items for the boy's mini Christmas Tree. Like ornaments, lights and a charming gumdrop star (I'll post about that next week). What's in each box?
Chocolate coins, noise makers, Christmas lights
Sprinkles for cookies, ring pops, garland for boy's tree
White chocolate pertizzels, star ornaments, movie night treat (Elf)
Ornaments and suckers
Gingerbread house window jellies.
Blue and purple mustaches, chocolate coins, ornaments
Trail mix and chocolate coins
Ornament melting beads (Santa and penguin), ribbon candy
Candy canes, snowflake ornaments, snow ball gum balls
Lolly pop ornaments, mini stamps, sixlets
Star ornaments, slime, chocolate coins
Snowflake ornaments, Santa chocolates, slinkies, chocolate coins
Ornaments to paint, chocolate coins
Snowman ring pops, ornaments, family field trip to see Christmas lights
Family field to the snow, candy bags, ornaments
Family field trip to see the LA Temple lights, peeps, lolly pop ornaments
Family fields trip for Christmas caroling, Santa chocolates, whistles
Crystal snowman and tree crafts, trail mix, snowflake ornaments
Cupcake baking, chocolate coins, colorful snowflake ornaments
Funny glasses with nose, chocolate coins, snowflake ornaments
$20 for each of the boys...to buy each other a Christmas gift (shopping field trip), star ornaments
Whoopee cushion, ice skating field trip, Santa chocolates
Christmas treasure hunt, wood folding toy, colorful snowflake ornaments
Window snowman jellies, lolly pop ornaments, Santa chocolate
Santa ring pops, mini stamps, candy canes, Santa chocolate, chocolate coins
That might have been too much info, but maybe not. Either way, I hope you dig this ideas.