If you've watched the Biggest Loser, you'll know that the 2nd week (on the show) always has horrible numbers! Last week I lost 6.4 lbs and to quote my sister-in-law Leslie
"
Congrats on losing a POUND EVERY STINKING DAY"
I didn't think about it until she left a comment, but yes... I guess I did lose a pound every day for the first week. Knowing that this great number would bring a bad number for week two, I worked my bum off. It's no joke... I really did.
Here are my body bug facts from yesterday.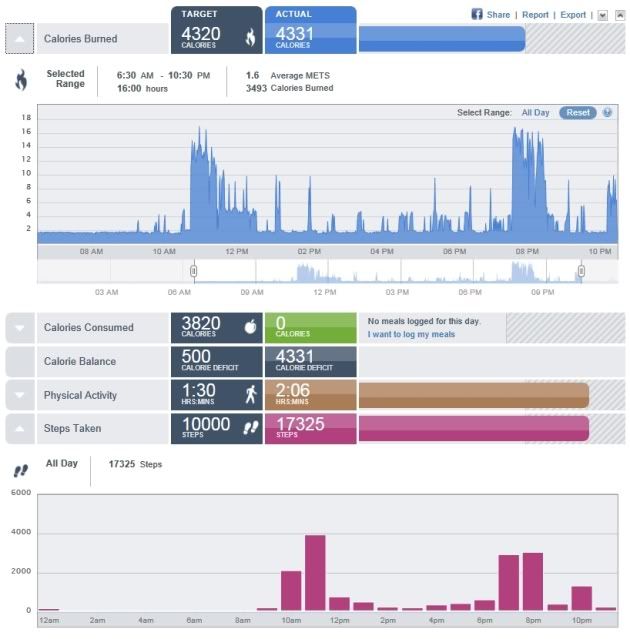 I hopped that everything I did would give me a number close to 4 lbs.
Super excited and a little nerves to film myself live at a weigh in, I went for it AND....
Yep... I lost 3.6 lbs :)
I didn't get my 4 lbs, but dang I got close and that was alright with me. Plus, women to women... my "friend" will be visiting town any day now. So all together I lost 10 lbs in two weeks.
I have no idea what this new week will bring me, but I know it will be a challenge to get in workouts.
-I will be on the road driving to UT for 12 hours.
-Visiting with Family.
-Sitting in the airport and flying home on Saturday
-Up against Labor Day
-And last, the most stressful part... the boys start school.
I'm taking a MASSIVE bag of carrots on the road trip, which I must eat before I fly home. I really enjoy snacking on road trips, so hopefully this will keep me safe.
One more thing before I sign off for today.
I have noticed many of you are restarting your weight loss journeys and I'm so proud of you! I love hearing how you are doing. LOVE IT! At first when I started to share this "millionth" journey, I was nerves and yet you have all put me at ease. So thanks for that.
I'll see you all tomorrow.
~H