Well looky here... I scrapbooked!
I can honestly say taking off a few months from really scrapbooking (for myself) was hard, because I missed it. However, that was the point. I've been in the "scrappy world" for so long (over 7 years) and rushing to "climb that ladder", that it burnt me out. Filling rested from paper cuts and DT assignments, I made this layout for fun and used it in The PaperCut's June issue. I'm in LOVE with Vellum and so I thought I would try and run it through my cricut and guess what... it totally works! Check out the Fifteen title. So soft and pretty right?!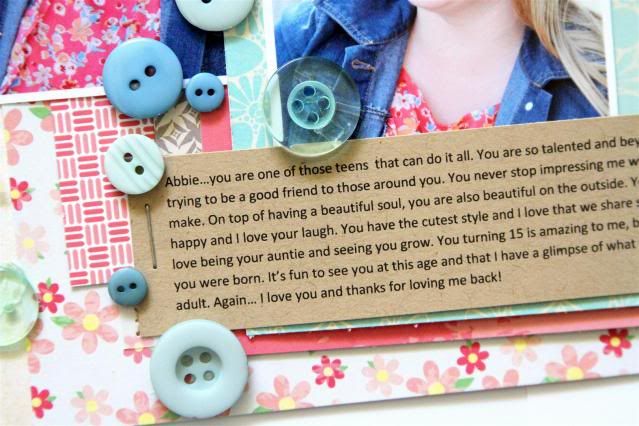 I also added in what feels like.... a million buttons. I'm a little crazy for buttons. I love the tiny pops of color :)
Oh and this flower... I just cut out the same flower more then once in different sizes and layered it. So simple right?! Yes, I scrapbooked and I'm so happy how this layout turned out. I even got to use my own papers :) Which can now be found at Scrapbook.com AND Stop and Scrap. I'm so giddy over that!
One last thing before I go.
Our sweet little Bradley finished his Wolf and is now a Bear in Cub Scouts. I'm so proud of him and how hard he worked.
When they asked him "Who would you like to pin your parent pin on, for helping you?"
He said "My mom. She has helped me so much and I couldn't have done it without her".
I'm not going to lie... I totally started to cry! It was a sweet moment, from a sweet boy.