Last Thursday Bradley tells Mr. Sonboul and I
"I have to do a science project and it's due on Monday"
"What? oh crap!" is our response.
Because of the class switch we went through, we missed the paperwork that come home three weeks ago.
We got right to work and spent almost our whole weekend working on it with him.
He worked so hard on it and was up every night past his bed time. Then on that rainy Sunday, we spent the whole day testing friends and family.
He picked the project and he worked like crazy.
Monday morning we put the finishing touches on the project board and off we went to deliver it. It looked really good and Mr. Sonboul and I were so proud of him for working so faithfully to get it done.
Last night we went to the school for the open house science fair. We are such nerds and loved looking at all the projects. There were over 300 projects and 90 kids from the 3rd grade competed for 3 title spots. 1st, 2nd and 3rd place.
His project was about testing your motor skills and how fast you will react to something falling. Before he left school yesterday, he was given a letter. It said
"CONGRATULATION! Bradley you are a finalist for 1st, 2nd, or 3rd place".
We thought it was a great projects, but never thought it would place...being that we whipped it together so darn fast. Bradley said "Mommy, I'm starting to believe you when you say that I'm smart" :)
Then this morning we went to the school. Camera in hand...
OH MY WORD... They called his name and it was first place.
He came running through a crowd of students and you could see the joy on his face.
This little man has been really struggling with this self esteem after the whole teacher debacle and how she treated him. This couldn't have come at a better time.
With tears in mine and Mr. Sonboul's eyes, we cheered like crazy for him.
Oh... just look at this proud face rebuilding his confidence!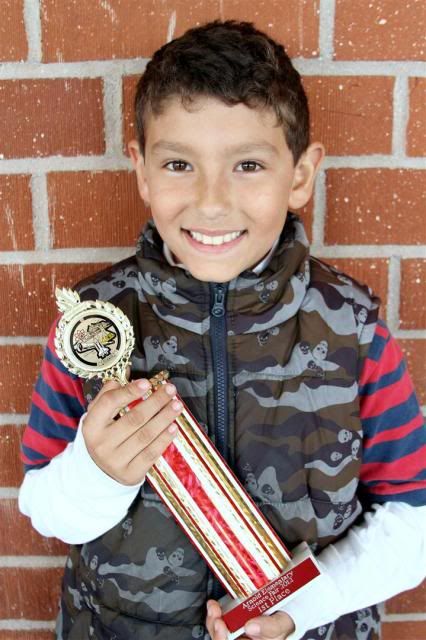 This mama bear is on cloud 9!
I'm so proud of you Bradley!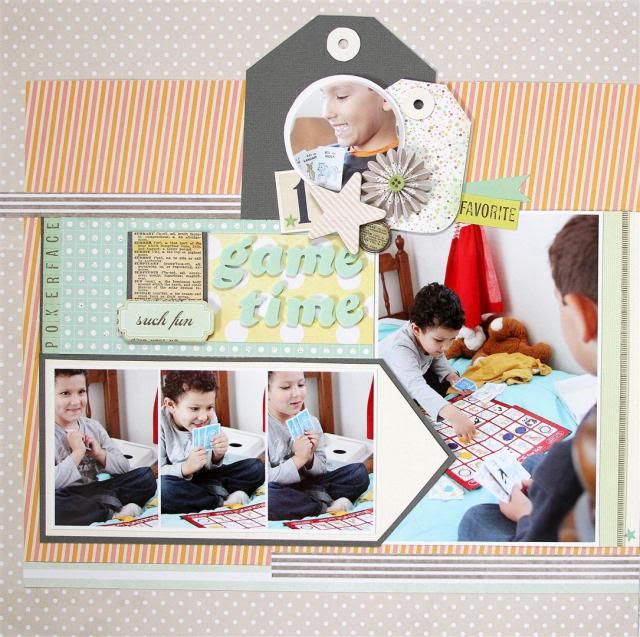 And to leave you with something Crafty, here is a new layout I made using
American Crafts.
Check out Calvin's poker face lol. I love that sassy thing!