About a 2 weeks ago almost every Scrapbook company shared how they used the new Advent Calendar from silhouette. There was American Crafts, Basic Grey, Bella Blvd., October Afternoon, My Minds Eye and way more!
Well, Silhouette decided to keep the party going and have some pretty awesome deals for Black friday, but first I wanted to share the Advent Calendar I did for We R Memory Keepers.
And here are the details/close ups. When you buy this Advent Calendar it comes with a coupon for the boxes and as you can see they are adorable. Plus you can use these boxes later on for party favors and small gift boxes.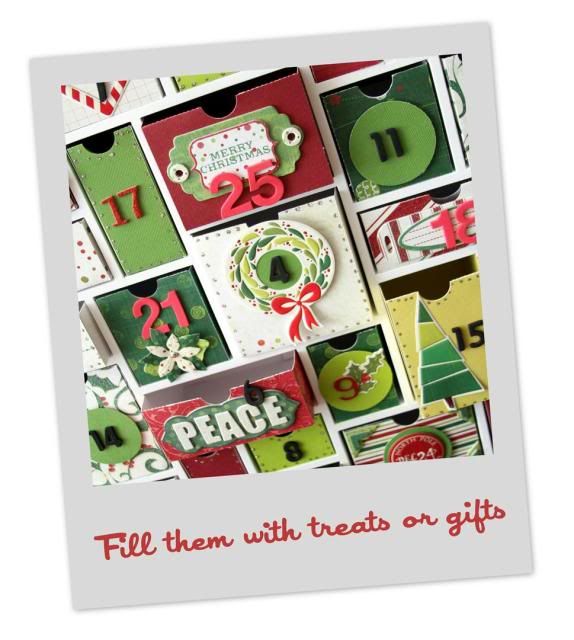 Now check out these sweet deals.
Black Friday Sale
Gear up for the best Black Friday sale this year - Friday, Nov. 25 through Monday, Nov. 28, save 30% on everything* at silhouetteamerica.com. Get a new CAMEO tote for just $70 (normally $99.99), or a starter kit for $28 (normally $39.99). Best of all you don't have to wait in any lines or camp out in a tent. Just be sure to visit silhouetteamerica.com before the end of the day on Nov. 28 (MST) and use the promo code BLACK during checkout to save 30% off your entire order*.
* Offer excludes Silhouette CAMEO™, download cards, and gift cards. Promotion valid 11/25/2011 12:00 AM through 11/28/2011 11:59 PM only at silhouetteamerica.com. 30% off sale only includes physical products purchased at silhouetteamerica.com while supplies last.
50¢ Shapes
The 50¢ shape sale is back in the Silhouette Online Store. Over 19,000 designs (including fonts and printable patterns) will be just 50¢ ea. from Friday, Nov. 25 through Monday, Nov. 28. Whether you have a subscription to the Online Store or just like to dabble every once in a while, you'll get more for your money this Black Friday through Cyber Monday from the comfort of your own home. And to make the deal even sweeter, there will be new designs added to the store on Friday, Saturday, and Monday, so come back each day to find out what's new. For even better savings, sign up for a subscription to the Silhouette Online Store. For just $9.99 per month you'll get $25 of credit to spend on downloadable designs - and at 50¢ each, you'll really stretch your dollar.
50¢ shapes available for download only through the Silhouette Online Store or at silhouetteonlinestore.com. Offer not valid for other websites, subscriptions, or physical products. Promotion valid 11/25/2011 12:00 AM through 11/28/2011 11:59 PM only.
Now leave a comment here and 1 person will win this new collection from We R Memory Keepers Peppermint twist

(click to see the full collection).

It's the cute collection I worked with for the Advent Calendar.
Happy Thanks Giving everyone.
PS Head over to Basic Grey's blog to see a layout I did and what I'm thankful for this Thanksgiving :)