It's safe to say that motivation gives us a big boost in losing weight! In fact I love working out and seeing someone go by in the size I desire to be. That just makes me want to work out harder. I know I'm a dork, but it totally works for me.
Anyways, here is my newest video all about motivation.
Check out these two blogs. I talked about them in the video:
Emily Jones
is amazingly beautiful, in great shape for having 4 kiddos and her home is to die for. She truly has been inspiring me lately.
Drew at Fit 2 fat 2 fit
is amazingly motivating! When you see his before and after photo of eating crappy for 6 months it's shocking! Seeing what fast food can do in 6 months has really helped my walk away from a lot of it! Just check out this photo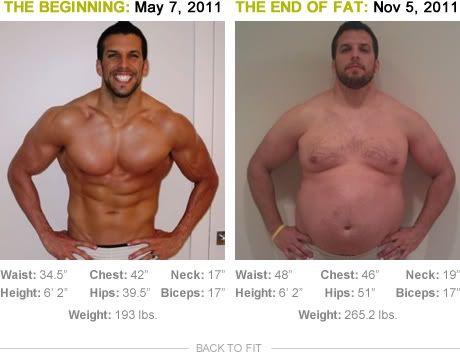 6 months people...6 months!
Good luck this week to all of you and remember to find your inspiration. Use it this Thanksgiving Day.