First let me start by saying that when I committed to taking a picture of myself...I knew I wanted to avoid this...
I mean... these people look so sad and depressed. I get it, the fat is weighing them down, but come on people we can do better then a photo like this! I put Mr. Sonboul behind the camera and here is what I came up with.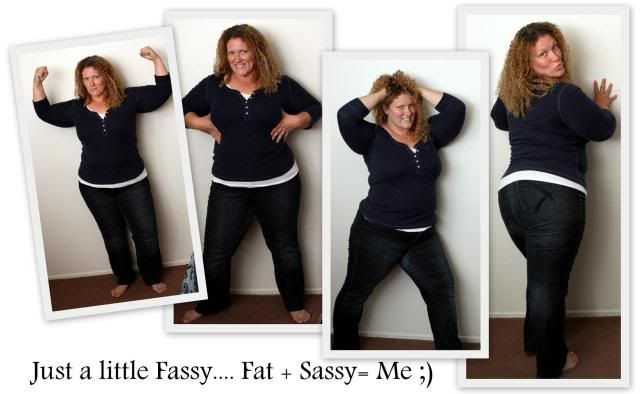 I love me and regardless of being fat, I'm not a frumpy person... I'm a Fassy kinda gal. I want this weight loss journey to be fun and I thought my photos will be the perfect starting point.
So here is what works for me.
1) I work out everyday for at least 40 minutes (time will increase as I loose more weight) 6 days a week. Sunday is my day off
2) I DON'T eat past 7pm. This is a hard one... but it allows your body to burn off your food before bed.
3) Drink a ton of water, no soda
4) I can have a sweet treat, but for the next two days I can't and I have to make sure I burn it off in my workouts. That way it's almost better to avoid them.
5) Eat well balanced meals, try and avoid fast food.
6) Eat before I go to friends homes. That way I don't eat after 7pm
7) I workout in the early AM hours with Jason, so I don't put it off
8) I'm in bed at 10pm
Alright... any questions?
I hope you all enjoy this journey with me and thanks for all the support. I have decided that Wednesday's will be my weight loss Wednesdays. So you can count on a post those days. Next week I will talk about what I eat and maybe even a few recipes. Again thanks for the support!
~H