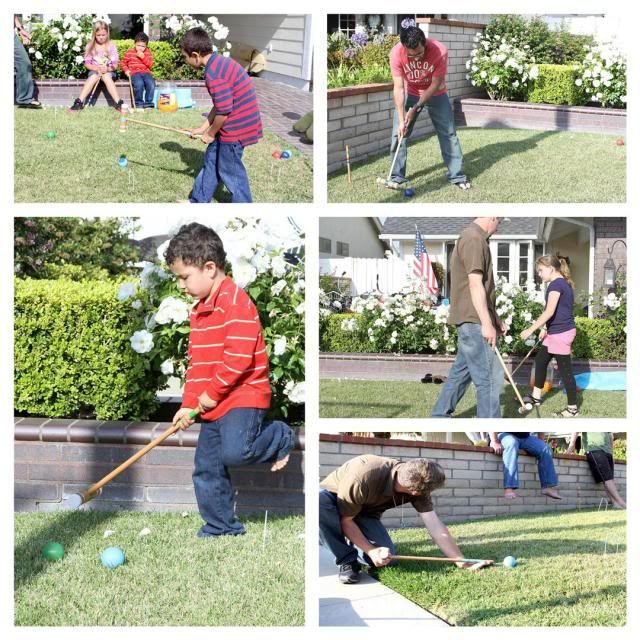 I must start by saying I'm a little old fashioned and I love old school games. On our perfect 4th of July day (a month ago) I brought along our croquet set. I grew up playing this game with my siblings in our backyard... so I knew it would be a hit. First Jason, the boys and I played a game and then the news of it spread like wildfire.
Out of all the games/rounds... my favorite game was the last one. Scott, Rob, Emily and Jonathan had all of us laughing so hard. It almost turned into a pool game, as Jonathan and Scott goofed around and laid their heads on the grass. It was a fantastic idea that got everyone outside and laughing... and I will take credit for it... thank you very much :) lol
Thanks to my family for making it so much fun and all the new favorite memories I have!
Now, here are my last of the 4th of July photos. Sorry for being a little slow on these family. I've been a little busy with summer.
Anyways, on that perfect day we all also enjoyed the pool (I got a little sunburn even after loading on the sunscreen) and splashing around in the pool. OH, I did hate those water spray guns, because the kids kept spraying me in the face. Well, okay I didn't hate them "too much"... because I got my mom with one while she sat next to the pool side :)
Early in the morning, we went to the parade. I loved it and enjoyed all the red, white and blue! Because we live in Cali, we have a lot of hula dancers at most of our church parties and holiday activities. I think the hula dancers were my favorites and the boys loved the jets.
It was a PERFECT summer day and I loved every moment with my family.
Life is good and I wish summer would stay a little longer.