This has been on my list for some time now. We've seen it on Youtube and on America's Funniest Home Videos again and again. So I headed to the store with the boys (on the first day of Summer Break) and we bought Mentos and Root Beer.
We had a bunch of teachers watching us as we got it all set up. I had the boys wear trash bags with holes in them (for their heads and arms). This was me "Trying to keep them clean". Then on the count of three the boys dropped the Mentos in the soda. It's crazy how fast they react to each other and here is a photo of Spencer running back.
Bradley decided to pick his up... OH BOY!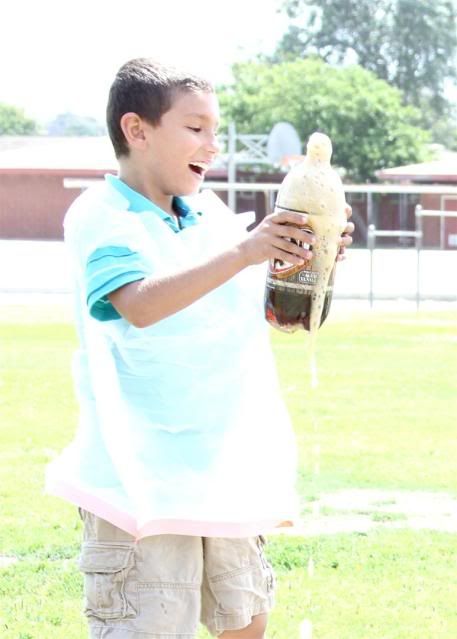 When they were all done, we broke out into a soda fight (Thank heavens for the trash bag covers!) and the boys just loved this Soda Science Experiment. I do have a bit of a tip for all of you wanting to do this. The more Mentos you put in, the better it sprays. I would suggest using a whole pack of Mentos per liter of soda. This cost us about $6 for all 3 of them and it was worth every penny.
YOU'VE GOT TO DO THIS WITH YOUR KIDS THIS SUMMER!
My boys are still talking about and I think we might do it again in Sept.