As promised... my veggie journey.
Growing up, my family loved meat and loved to fry just about everything. I went along with this plan for about 6 years and something snapped in me. I started to HATE the texture of meat and when my sister (one night) told me that chicken was really from a "chicken", I felt sick to my little tummy (age 6). I can remember it so well. We were eating fried chicken and I could see the bone and I decided that would be the last time I would eat it!
lol I started feeding it to our dog under the table. This worked for about a month and then I got busted. I told my mom everything and THANK HEAVENS she said "OK, I can just make you dinner without the meat in it". FINALLY the truth was out and I was blissfully happy. I'm sure you are thinking... how can a 6 year old make this choice... but trust me I HATED IT THAT MUCH!
Now fast forward 12 years when I started dating Jason. One night while talking he says "but how do you know you don't like meat if you haven't had it in years?" I responded with "I just know". After talking about it and wanting to impress him I say "I'm not afraid to eat it, I just don't like it. So later that night we go to Tommy's (I'll post about this tomorrow). While there I decided to show him I'm not afraid of meat and I took a bite of a chili cheese burger... A BIG BITE. I say "You see... I can eat it, I just don't like it". This was hands down the worst idea ever! Later that night I was so crazy sick and I had the worst upset stomach! It's almost as if my tummy had no idea what to do with the meat and was punishing me.
Now fast forward 4 years. I was pregnant with Calvin. I was starving and threw up 8 times (on a good day) to 15 times (on a bad day) each and EVERY DAY for the entire 9 months. It was around month 7 when I was soooo hungry and couldn't keep anything down. I was laying on the floor while Jason and I were talking and Bradley was playing by my side. Jason was eating a taco from Taco bell and I said "it smells so good". He said with hope in his voice that this is the moment I'm about to turn back to meat "You can take a bite". I say "Do you not remember what happened last time? BUT... can I just lick it?" lol
This guy really wants me to eat meat so he let me lick the meat, when normally that would GROSS him out! So, I licked it and 2 seconds later I threw up :( No luck.
I'm now about to turn 30 and I couldn't care less about meat. I let my boys eat it, but I have BIG TIME RULES. No weird looking meat, no fish or seafood until they are 10 and we ARE NOT ALLOWED TO have fish or seafood in our home!
So talk about opposites attract. Jason LOVES it... Craves it and I HATE IT... LOATH it! I cook it for my family, but never taste it. So it took many years to learn how to cook the dang stuff. Also when I do cook it, I always ask Jason "Is it okay?" before he can get one bite in his mouth.
About 3 months ago I was walking to my friend Bryce and he said "every vegetarian I know is really unhealthy" and I happened to be one of them. Even though I don't eat meat, I eat all the bad treats and way too much fast food like burritos and french Fries. This got me thinking and so I set a new years goal to be a true veggie gal and eat better. Making that choice helped me lose 45lbs, but over this last month because of traveling and working a lot I put back on 15.
Then yesterday, I had the worse headache and Jason made a great point this morning. He said "It's your body fighting back!" SO, this morning I got up and had a yummy healthy breakfast and now I'm feeling great. I love being a veggie gal because when you get off track your body lets you know REAL FAST! :)
So the point to this post is to share my journey and to tell you that you can live without meat. I'm not telling you to do this, but it can be done and even while you are pregnant. Both of my pregnancies were Very healthy even with my crazy morning/all day sickness with Calvin.
I had this layout published a long time ago in Making Memories :)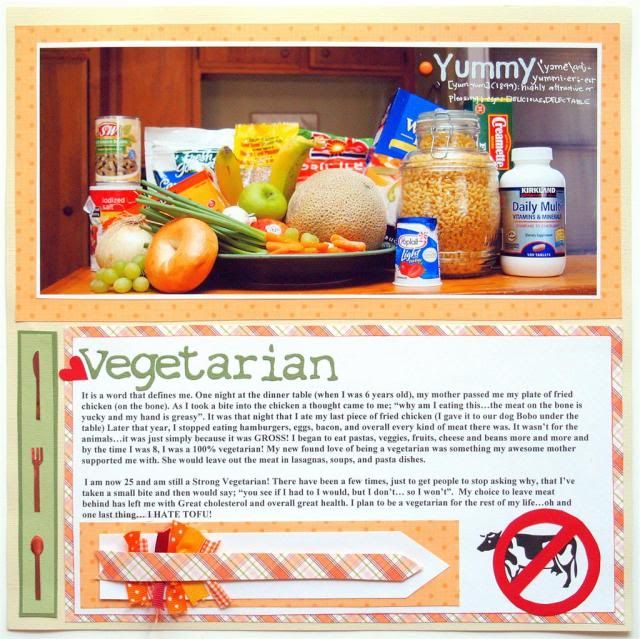 Whether or not you eat meat, our bodies are so important and I see it now more than ever. Take care of them and feed them right. Especially your kids. Cut out the junk. I keep our home stocked with fruits and veggies and my boys love them.
So there you have it. This is how I became a veggie gal and funny enough, both of my sisters have kinda become one too. WOOT... my numbers are growing!
The End.
P.S. here is our frig