Today is Bradley's first day of Spring break. I'm overjoyed to have this week with him and not having to rush him off to school. I'm excited that he and Calvin can be buddies all day long.
Today and tomorrow we will be spring cleaning the whole 2 days! We are cleaning out closets, scrubbing floors and everything in between. I've been so busy working in the scrapbook world, Bradley's school and being a mommy to Calvin.... that our home has gotten "way out of control". SO, I'm now taking back our clean and good smelling home and getting our elbows dirty! It's funny because I'm actually excited to clean! On Saturday I bought a bunch of cleaning supplies for it.
Yesterday was Easter and we had a great day. Many of you heard that we had an earthquake in California and yes we are fine. It was a 4.2 (I think). I grew up with them, so they don't bother me. Lucky girl right?!
Anyways, we went to my mom and dads and had a great time visiting family. So, here are a LOT of photos from the day (at Tammy's request...a.k.a. my sister)
This year Jason, Jon (my brother) and I, started a new funny tradition. While hiding the eggs for the hunt, I threw an egg at my brother (just to be funny) and it busted open. The candy went all over the ground and got dirty. So I told Jon to fill it with dirt! Jason, Jon and I all laughed as Jason and Jon hid it.
Brian found the egg and thought it was funny.
Every year my mom puts money in the eggs and Abby collected the most money... almost $7. sweet!
Spencer didn't waist time and started to eat the candy right away :)
As well as Calvin
Once the egg hunt was over, I took pictures of the girls
Andrea
Abbie
Amber
Nana (a.k.a. mom), Penny (my sister), and Emmy
Me and Penny
It was a GREAT day! I love my family!!!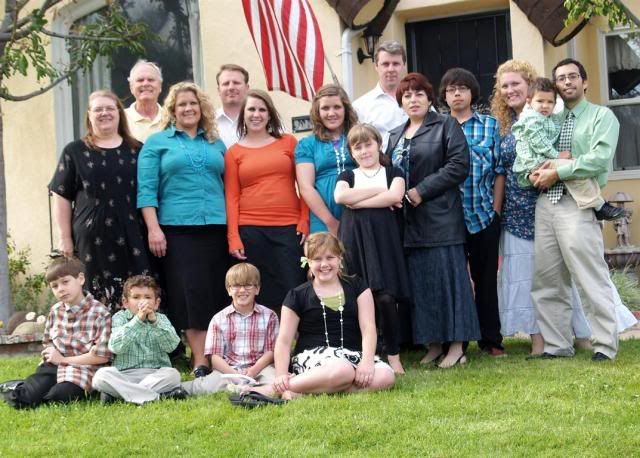 We also celebrated Emily's 16th birthday. It was neat that her birthday fell on Easter this year.
Happy birthday doll! WE LOVE YOU!