Good morning everyone. First off I really wanted to say "THANK YOU!!!" Thanks so much for all the blog love and comments. I've really enjoyed reading each comment.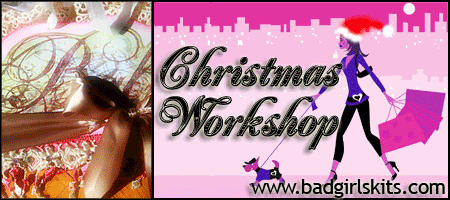 This year there are 22 free classes for the
Bad Girls Christmas Workshop
You can find them here
the message board
. Right now the supply list is up and the classes start
NOVEMBER 15th
don't miss out!!! Oh and Wendy is giving a way a $50 gift card. Just head to her blog to read all about it.
With Christmas coming up Anna Griffin has the most beautiful Christmas line out.
http://store.scrapbook.com/angrpapa.html
Paislee Press / Purple Onion
I don't know if you heard, but Paislee Press (a digi line) and Purple Onion have teamed up and have come out with new stamps. I was asked to do a special assignment for them. Oh and they come in English and French
You can find them here
http://www.purpleoniondesigns.com/LizTamanahaStamps.html
Scrapfaith
There are amazing changes coming up in the near future at ScrapFaith. Including....
- Slide shows of all submitted challenge layouts.
- Monthly prizes. But NOT for a chosen layout, because art is subjective. Instead we will be giving away a large prize pack each month from a winner of our comment draw. That's right...starting in NOVEMBER, each time you leave a comment in a certain month you are eligible for the prize. Only one comment per post please. So if you leave a comment on every post you have the best chance at winning.
- A ScrapFaith Flickr group where you can post any faith based layout you choose.
- A re-design of some of the features on our site.
- Even more inspiration from our amazing team.
- More amazing Guest Artists. Check out the growing list by clicking the link in the right hand tool bar.We expect most of these changes and updates to happen around November so spread the word, come and visit us and get ready to Scrap FAITH!It's going to be wicked fun....or maybe I should say for some heavenly fun.
http://www.scrapfaith.blogspot.com/
Beloved Keepsakes
DON'T FORGET ABOUT FREEBIE FRIDAYS!!!!
In just two more days I be giving away some goodies from Lori and something from my own stash ;) so stay tuned.
PUBLISHED WORK
This month I had a lot of thing come out in the November and December issues. here is where you can find them
Creating Keepsakes
Nov issue page 24 (mini album)
Dec issue page 115 (lo)
you can also see the lo for Dec on CK site :) http://www.creatingkeepsakes.com/content/view/14191/
Paper Crafts
Nov/Dec issue page 59 & 70 Card and bag
Scrapbook etc.
Nov/Dec issue page 86 (lo)
Crafts N Things
I still haven't gotten my issue in the mail but if you go to their home page you'll see my little Christmas gift bag on their front website page AND it's even on the front cover handing on the tree :) It's my 2nd cover! Oh and I also have a wall hanging in there.
Scrapbook Trends
They have a new Baby Idea book and I have one lo in there. not sure of the page because I don't have the new issue
Memory Makers
Dec issue page 69
Okay that's it for today! One long catch up post. I hope you enjoy all the link and get a chance to check them all out.