I've mentioned it on my blog before, but when I was a little girl my Mom shared all her hobbies with me. I learned how to sew when I was 6. I was taught to love all forms of art and I practice calligraphy all the time. Plus we baked! My Mom would make the most amazing wedding cakes for clients and she taught me all her tricks. I even learned how to make frosting roses. Now that I'm a parent, I'm in awe of my mother. She went out of her way to share her hobbies with all 6 of her children. We even learned how to cut wood with electric saws! As for my Dad... he taught us how to clean a VCR, rewire lamps, fix cars and much more. He was a GREAT teacher!
School is totally important, and heck, we all need to know math and how to read, but when a parent shares a hobby...they teach their child something much more valuable. Life experiences! These loved hobbies are time well spent and perfected. Almost masters of the tread.
Somehow time has snuck up on me and I've been a parent for 9 going on 10 years. Wanting to follow in my parents footsteps, I've been working hard at sharing my hobbies with the boys. I teach them about art/crafting, how to build things, music and much more. As for Mr. Sonboul, he has taught them about technology, games, out door activities, catch, how to pin bugs, how to fix/take care of a bike and the most important... the love of reading. I love hearing him read to the boys and he has been doing this from the moment they were born.
The other day Calvin came across a box in our closet. I told him "It's Daddy's special box and you'll need to ask him to look inside". With the boys next to him, Mr. Sonboul opened the lid with care.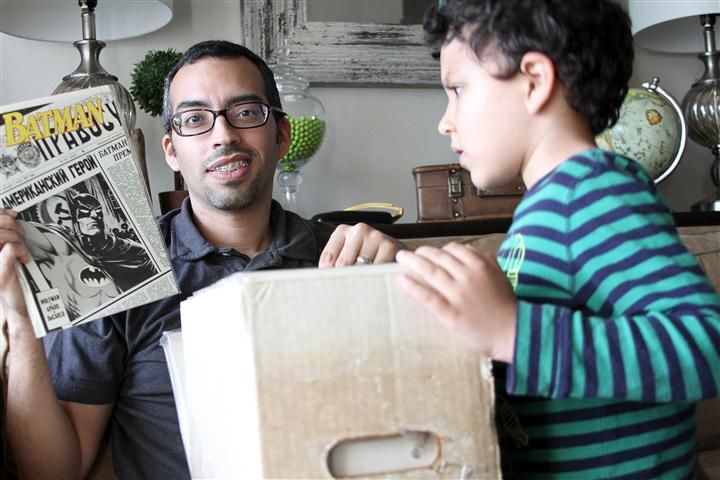 The box was packed with collected comics. Vintage comics of hero's the boys have loved for years. I'm not sure when he started collecting these, but I've made a point in our marriage to always take care of this box. Mr. Sonboul has been waiting for years to share this hobby with the boys and the day had finally come.
They LOVED looking at them. LOVED THEM! He read a couple of his favorites and the boys hung onto every word. I even heard a few giggles.
Parenting can be such a BUSY job and I think we all know this! Running around town and helping with homework can take up a big part of the day. I would definitely never title myself as a "perfect parent", because Lord help me... I lose my temper from time to time just like everyone else. However, I do know that these little people are craving to learn and why not start with sharing what you love the most... our hobbies.
What hobbies do you share with your kiddos?