At the end of my Weight Watcher meeting,
I say to Mira (my BFF and doing WW with me)
"So we found out who Bradley has and his name is Mr. Killeen"
With a fast response she says
"I totally know who that is! I subbed for him once at a different school and when he came back, I saw him with his class. He is a GREAT teacher".
The next morning, we all get up and get ready.
Bradley decided to rock his hypnotizing shark shirt and I "influenced Calvin
to wear his "THE MAN" shirt + yellow pants.
Too CUTE!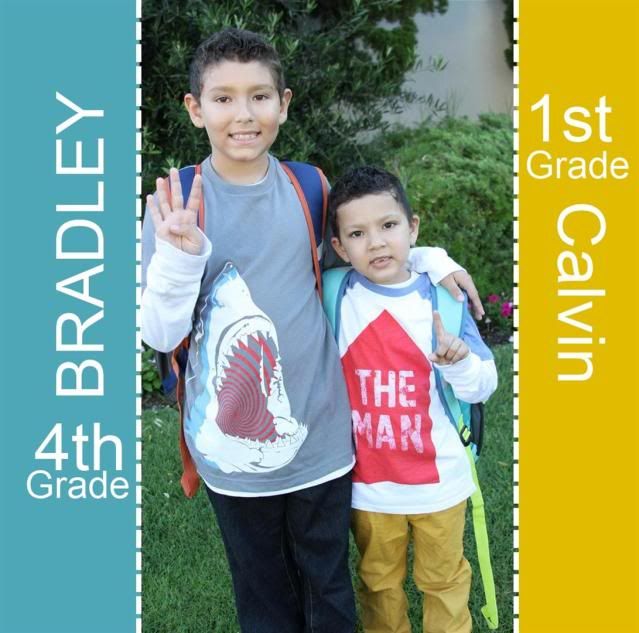 How do I feel about backpacks?
I NEVER buy my boys backpacks with cartoon images
and I always stick to bright happy colors.
Just a fun little fact.
I found these at target and I love them.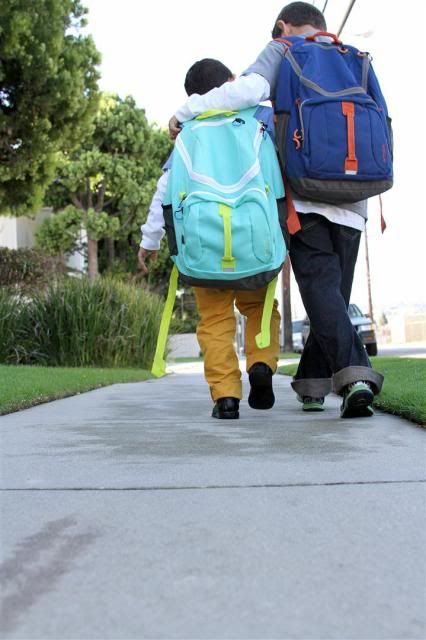 We went to school early, so I could get some good pictures of the boys.
And when the bell rang, we went to check in.
I am really excited knowing that Bradley has a male teacher.
And yes, it was the same teacher my BFF was talking about.
It's almost as if the Lord knew I would lose it...if we didn't get an amazing teacher for Bradley.
He is super excited to teach and has a lot of fun stuff planned for the kids.
WOOHOO!
Calvin ALSO got an AMAZING teacher.
She is strict, which is what Calvin's personality totally needs.
She doesn't yet, but runs a TIGHT ship.
She is smart and amazing and I just love her.
AGAIN... WOOHOO!
After school was done I say
"On a scale of 1-10...1 being the worst and 10 being the best, how was your teacher?"
Bradley:
"Oh mommy, he is sooo fun and he said he doesn't believe in yelling at kids. He is a 10. No 2X10=20. 3X10=30!"
Me:
"Oh that is just what I wanted to hear!!! And you Calvin?"
Calvin"
"A 1!!!"
Me:
"Why are you giving your teacher a 1?"
Calvin:
"She kept saying ... "Calvin sit in your chair" and "Calvin do your work and stay in line!" She's so mean mommy!"
Me:
LOL
It was a great start to what I thought would be a disaster. I still think 4th grade is going to be really hard and we as parents will have to push Bradley to catch up :( but never the less, we know he can do it. So there it is. Our first day went well and I didn't stress eat!