While visiting the Santa Monica Pier I took these pictures of the boys. Silly pictures truly warm my mommy heart and lifts my soul. Mr. Sonboul is such a fun guy and vacation does him some good. You can see how relaxed he feels here and how could you not love this larger B&W photo?! Puppy kisses and all! Plus his rugged beard makes me giggle and blush.

Here is a scrappy close up of these delightful buttons by Basic Grey. MAN I love their buttons! By grouping them together they become their own embellishment.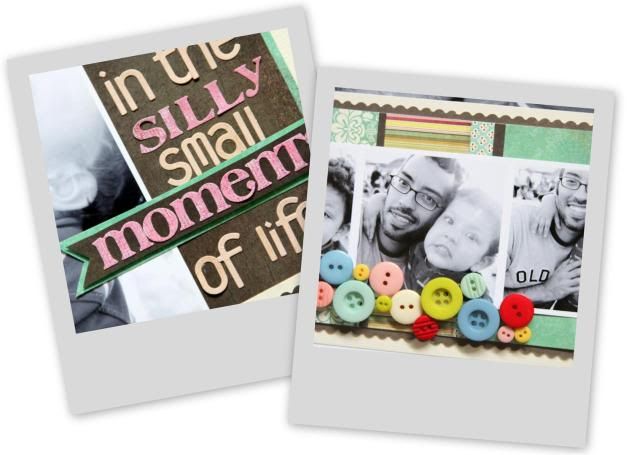 Yesterday was Labor day and we truly labored this day (said Mr. Sonboul haha). We spent the majority of the day cleaning our home and getting it ready for the new school year. I always feel more productive in a clean home, so this is vital in order to survive PTA mommyhood.
New backpacks have been bought, haircuts have been given, and new school clothes hang in the closet awaiting the big day. I'm super nervous sending Calvin to school because he is VERY spirited and VERY much so like me. Let's just say that I gave my teachers a run for their paychecks. Can you see why I'm nervous?
So, my fingers are crossed that this first week goes well. The best part about back to school day is that Mr. Sonboul and I get to go on a date that day since he takes the day off as a tradition. Tonight, we are also starting a new tradition thanks to a very inspiring person...
nie nie
. I'll post pictures of this tomorrow and who knows... maybe more love will grow from this new "silly moment" tradition :)