Each and every day has been pretty magical around the Sonboul home... well except the re-piping of our building where we live. lol However, other than that... I've filled our days with activities, family, mini trips and starting this next week we will visit the beach once a week for some well desired sun.
Today I have this CUTE photo to share of the first day of Summer. I packed this day with tons of fun stuff that they will never forget. We picked up Spencer (Bradley and Calvin's cousin) and went to get some yummy doughnuts. Calvin LOVES milk, so I was able to take this picture. My boys love visiting Krispy Kreme because you can watch how the doughnuts are made. We all agree and our favorite part is when the cooked doughnuts go through the waterfall of icing.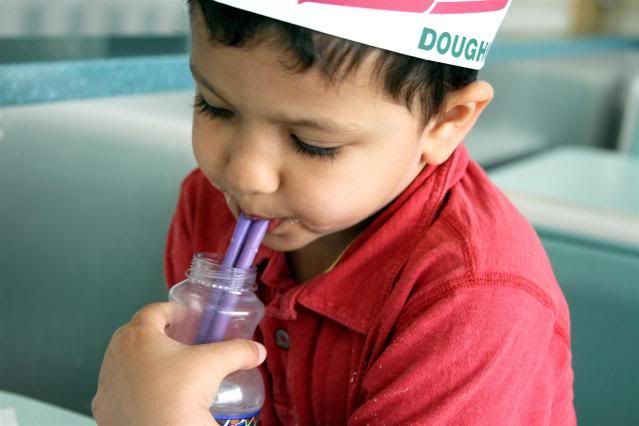 Whenever I visit a place, I make sure to take a few detail photos. This allows me to have more photos to tell the story and because I love a lot of photos on a layout... I'm a happy camper. So I was able to scrapbook these photos and here is what the layout looks like.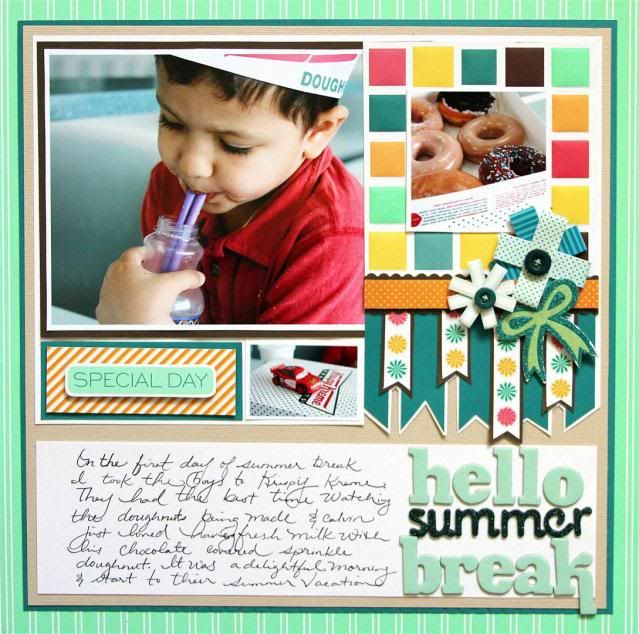 I used fun bright colors in my papers. This give a sunny day feeling. I believe that the right colors can complete a layout perfectly. For example, you should never use black, green and white for a pool/water themed layout. I think most people understand this concept, because I normally see blues and white for pool/water layouts. For this layout I took the blues from the set in the photos and the sea foam green from Calvin's Hat that says "doughnut".
So, the point is... Heidi Loves summer and our family is enjoying lazy days!
~H