Last year Bradley and I had a little conversation
Me: What do you want to give your friends for Valentine's Day?
Bradley: Well... girls like flowers, can we give all the girls flowers?
Me: That would be very nice... girls do love flowers. What kind of flowers do you want to give them?
Bradley: Well, girls like roses right?
Me: yep they do :) Is that what you want to give them? Okay!
From day one I have been raising Bradley to love girls and to be sweet to them. So, for this year it's kinda become his little tradition for Valentine's Day. I hope he wants to do this every year because the little girls in his class just LOVE IT! It is truly one of the cutest things I've ever done with Bradley.
Bradley gave a flower to his teacher, his last years teacher, the principle, the ladies in the office, and all the girls in his class.
And he also gave one to his BFF Jessica. Can you tell why he loves her? She is the funniest thing. Oh and Bradley gave all the boys funny noses (the same that Jessica has on).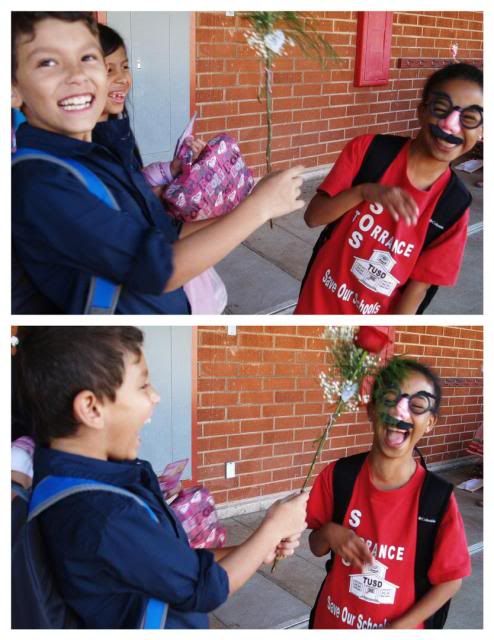 Bradley I hope you always continue to be sweet to girls/women. Open doors, say "you look pretty" and make them feel loved.
~mommy