About 2 years ago Bradley said this
"Mommy, I really want to get the new mini lego figures"
I had no idea what he was talking about and one day while at the store
with him, he pointed them out with excitement.
It was in that moment I fell in love with them.
"I'm trying to find them for the boys"
But when I saw Calvin taking them apart and switching them around
I decided that I was a closet lego lover and had been collecting them
secretly for me. I know I'm totally weird! It's okay, you can say it!
So the other day, a NEW series came out and with excitement I drove over
to Toys-R-Us to see if they had them. It's hard to find a box when they first come out
and as I was about to give up, there it was... the box...just one...sitting there.
I grabbed it like a crazy person and felt up the bags. Because I've been
tracking them down for so long, I've gotten really good at feeling the bags.
I'm so good at it I found EVERY SINGLE mini figure in the new series in one box.
Again I admit it...I'm totally crazy and weird for taking on this "boy hobby", but aren't they so darn CUTE?!
I mean, did you see the tooth fairy? She is adorable and what about this bunny??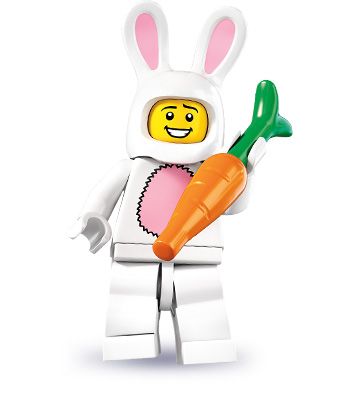 Yep, I have this one too. I totally understand if I'm no longer cool for admitting this, but at least Bradley thinks I'm cool!
PS you can see all the mini figures
here