Hands Down.... this has got to be one of the saddest nights in the Sonboul home. After reading our scriptures for the night and on my way out of the boys room, I looked over at our hamster's cage and noticed that Dusty didn't look so great and in pain. I had been a long day at CHA and I was exhausted, but this little hamster has been a part of our family for about 2.5 years (which is a long life for them).
I picked him up and left the room to check him out. Within moments of holding him I knew that he would soon be leaving us. Mr. Sonboul and I decided not to hide it from the boys and told them. We all cried for at least 2 hours. They said their goodbyes and went back to bed. Mr. Sonboul and I did everything that google told us to do. 1) Keep him warm-check 2) Hold him-check 3) Give him water-check. This all went on until about 1am.
Normally I wouldn't pull out my camera for something like this, but Bradley wanted a picture with him before he died. You can see the sorrow on Bradley's face and it just killed me. I cried with him a whole lot more and took this picture of them together. Dusty died the next day and sadly I was back at CHA. Calvin keep asking "but why did Dusty have to die?". I'm not going to lie, it was a sad day for me KNOWING that they were so heart broken and I was off working. OH MAN, talk about heart break!
He is now resting at Nana and Pappy's Home.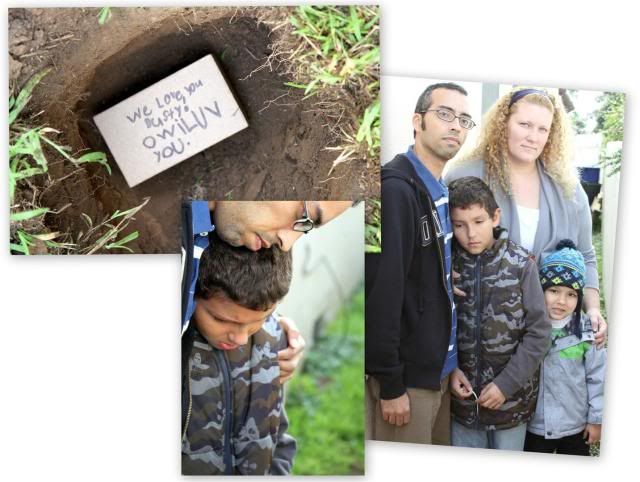 I know that most people would think we were crazy for doing this. It's just a hamster, but this little guy was a "Sonboul" in our eyes and he was very loved! Again, I know it's just a hamster, but it makes you realize how precious life really is. That to a young child, loosing a loved pet can hurt so much. Plus... being a parent... watching them hurt, hurts even more! Our family will always remember this night as the night we lost our very first pet.