Okay, the summer box is by far my favorite thing I've ever done for my boys! It has kep them out of trouble and kept them getting along. This box has kept our home clean and the boys happy to help with the cleaning. Click on the link to the side for the summer box and how I set it up.
A few weeks ago, Bradley pulled this 10 point bag and in it was a spy detective kit. Here are a few pictures of him opening it up.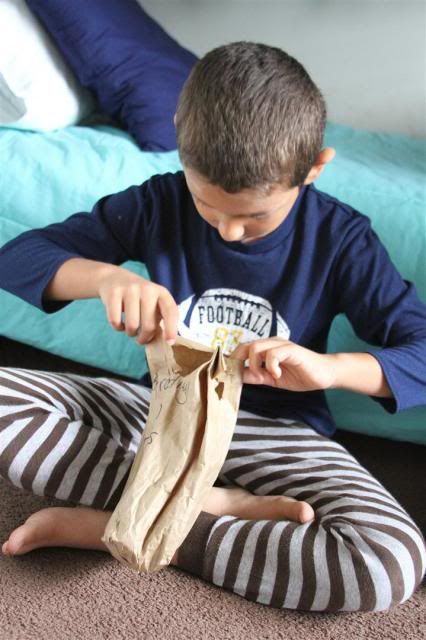 In the bag
1-note page
1-Chief badge
1 pencil
1-mini Flash light
1-Magnifying glass
1-pair of Sunglasses
Then I hid little clues all over the house. I made him write down the clues on the note pad and then write down where he thought he needed to go next. This was SUCH a big hit with them and Calvin will get the chance to pull it sometime this summer. At the end of the hunt, the last clue led them to the freezer. That is where he found the missing treasure... which was Ice Cream. This was a hot day, so it was perfect timing that he pulled this bag.


Dreyer's makes these cute mini ice cream cups and they come in the best flavors. I believe they were about $1.50 for each one.
I hope this idea will have you creating a spy detective kit. You're kids will love it and will want to do it again and again.